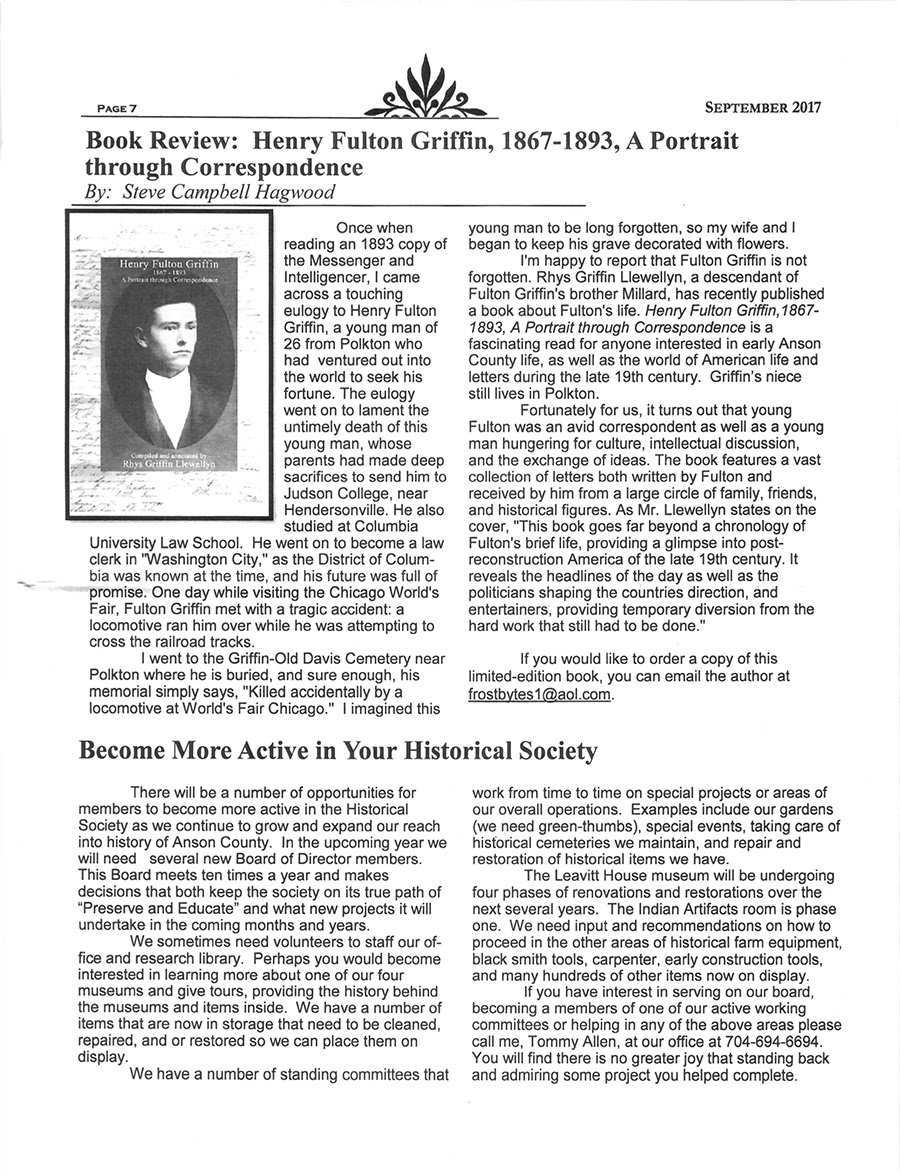 Rhys Llewellyn interviewed by 
Jerry Fabiyanic
 of The Writer's Talk Podcast. Listen to the entire show 
here
.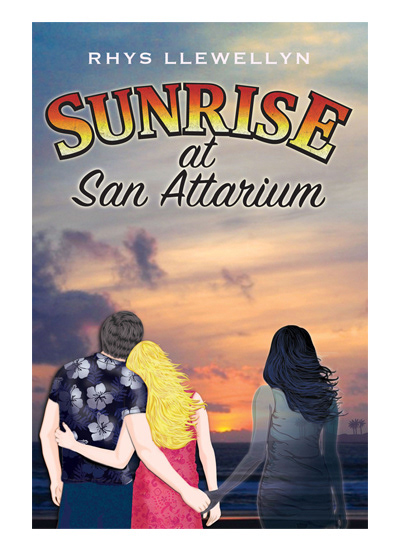 Sunrise at San Attarium questions whether it is possible to make one's fantasies come true.
To live out a fantasy isn't possible for most people, yet in Rhys Llewellyn's Sunrise at San Attarium, it's imperative.
Bob Inwater can't seem to keep his fantasy life from encroaching on his real life. After several occasions where he tunes out of reality, with eyes literally rolled back in his head, Bob consults a psychiatrist. The seemingly common-sense advice: In order to stop fantasizing, Bob must aspire to make his fantasy a reality. Only then can he stop tuning out and start living fully in the present.
It's an intriguing thought for Bob, a guy who has been happy to take shortcuts throughout life. He somehow rode to second-in-command at his company mainly by being in the right place at the right time. His dull marriage also came about without much conscious effort, so he is long overdue to take action for his own benefit.
Bob has a sense of humor, but he displays no common sense. In taking his psychiatrist's advice to make one of his overriding fantasies a reality, Bob needs to slip out of cruise control and fully engage. Doing so entails a move out of the country to a tropical island called San Attarium.
As hinted at by the island's name, the story is full of word play, puns, misunderstandings, and lots of odd encounters with eccentric characters. Llewellyn has a talent for this word craft.
Bit players throughout the book con Bob out of a seemingly endless supply of money, and his wife Harriet is a foil who he cracks his jokes upon. Perhaps the most interesting character is the one Bob makes up: a woman named Rachel, whom he has a suggestive relationship with.
The story is a meandering tour through the various acts of Bob's disengagement from reality in pursuit of his fantasy. Many encounters do little to advance character development or plot. The narrative technique of cutting back and forth from real events to the outlandish scenarios in Bob's head lends interest, although occasionally the journey feels like it may never reach fruition. Clever turns of phrase and ever-present puns are redeeming, though, so reading remains enjoyable.
Sunrise at San Attarium is a novel with an intriguing premise. It travels a meandering, rollicking road that leaves one wondering about the true nature of reality and whether it is possible to make fantasy lives come true.
He piloted his wheelchair as he must have captained his boat: in a navy-and-white skipper's cap, shoulders back, eyes scanning the horizon.
The halls and dining room were far from his Sanibel home, but when Ed Hanley rolled through them, you could almost smell a salt breeze, a remnant of a lifetime spent exploring the water and sharing his discoveries with others. For years, he ran the island curiosity shop Neptune's Treasures, which he filled with finds from more than 50 years of diving expeditions.
An Air Force veteran, Hanley died on the Fourth of July at 80 in hospice care, but loved ones and friends will remember him as Captain Ed, an ever-curious world explorer and teacher, eager to share his knowledge and discoveries.
Sure, he sold some of it — he and his wife, Jackie had to make a living, after all — but he also gave away plenty, from the world record horse conch he found diving off the coast of Sanibel and donated to the Bailey-Matthews Shell Museum to the fossilized shark's teeth he'd hand to wide-eyed young visitors to his shop.
A few years ago, Hanley published "Tales of Neptune's Treasures: Sanibel's 'Other Museum,'" with the help of part-time resident and retired statistician Rhys Llewellyn of Colorado, a customer-turned friend.
"He had a profound and lasting effect upon our lives," Llewellyn said. "from the moment we first entered his and Jackie's store on Sanibel 15 years ago to … when we said our final goodbyes to him over the telephone from Colorado."
Llewellyn saw firsthand the affection and respect customers and dealers had for Hanley and the soft spot he had for the kids who came into his store. A master tale-teller, Hanley entertained anyone who was interested with yarns from his travels, many of which are included in his book, as are columns published in a newspaper.
Ed Hanley (Photo: Special to The News-Press )
But a stroke following six-way bypass surgery made running Neptune's Treasures almost impossible, so Hanley asked his friend to help him sell off his inventory and close the shop in 2008. Then, Jackie, his wife and adventuring companion of 54 years, died the following year.
It was all so overwhelming, Llewellyn says, that he came up with the idea of the book to help lift Hanley's spirits.
Over the next year and a half, he recorded and transcribed his friend's stories and gathered more than 80 images for the book, which includes memories of a Long Island childhood to service during the Korean War. At a soccer game while he was stationed in France, he met a French girl, Jackie, who he married. When Hanley was discharged in 1965, the couple had two children with another on the way.
His family had settled in Fort Myers, so the couple went there and Hanley took whatever odd jobs he could find.
He pumped gas, worked at a cigar company and helped a buddy catch fish for aquarium hobbyists. Before long, Hanley was collecting shells, fossils and more, which he sold wholesale before opening Neptune's Treasures in Sanibel's Treetops Center.
The rest, Llewellyn says, is local history, as Hanley quickly became a beloved island character, renowned for his stories.
That generosity extended to the rest of his life as well, says daughter-in-law Belinda Hanley, of North Fort Myers, the widow of Hanley's son, Bobby.
"I lost my husband and I'd lost my own dad when I was in my teens," she says. "But he was always there for me. He wasn't my father, but he was a father to me."
• Born: 1934, Jamaica, N.Y.
• First came to Florida: 1944
• Family: Wife, Jackie, (deceased); three children: Bobby, (deceased), Jacqueline and Daniel
• Profession: Ran Neptune's Treasures shop on Sanibel
• His book: "Tales of Neptune's Treasures: Sanibel's 'Other Museum'" is $19.95. To order, email gatorbytes1@aol.com or write to: Snowbird Press, c/o Rhys Llewellyn 27876 Cragmont Drive, Evergreen, CO 80439.
• Gifts in his memory: Can be made to Hospice House of Cape Coral, 2430 Diplomat Parkway E., Cape Coral, FL 33909 in his memory.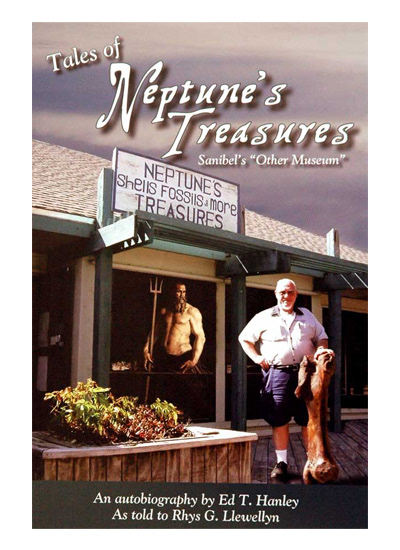 Tales of Neptune's Treasures – Sanibel's 'Other Museum'
submitted by Rhys Llewellyn
Readers who lived on or visited Sanibel prior to 2009 may remember Neptune's Treasures, the second-story shop in the Tree Tops Centre, directly across Periwinkle Way from the Dairy Queen. Often called Sanibel's "other museum," first-time visitors were amazed by the quantity and variety of items on display, all of which were for sale: rare and unusual sea shells, fossilized sharks' teeth, mammoth and mastodon bones, Spanish treasure coins, pre-Columbian pottery, American Indian arrowheads, Civil War artifacts, antique bottles – and the world's largest horse conch (now at home in The Bailey-Matthews Shell Museum). Regular patrons would find something new to marvel at on every visit, thanks to ongoing acquisitions by the enthusiastic and charismatic co-owners, Ed and Jackie Hanley.
For 25 years, the Hanleys entertained and educated those customers who took the time to read the store items' handwritten data cards and to listen to Ed as he shared stories of his various adventures.  Eventually, both Ed and Jackie became too ill to manage this natural history showroom alone, so they asked my wife Brandy and I, seasonal residents of Sanibel, to help. After Ed became paralyzed from a stroke, he again turned to us, this time asking us to keep the store open until its entire inventory could be sold. It was an enormous task, but how could we refuse? After 11 months of managing the store and dealing with hundreds of appreciative customers, we closed the doors to Neptune's Treasures for the last time in September 2008. The following year, Jackie passed away; Ed was inconsolable. Knowing Ed's love of storytelling, I offered to help him write his autobiography, which cheered him considerably and gave him a purpose again.  It was a huge undertaking, but Tales of Neptune's Treasures is finally in print.  Ed has led a very interesting and adventurous life, so he had a very good story to tell. He moved to Fort Myers after he returned from military service overseas, but his love of the sea began at a young age. As a child, he collected various things, but when you take a natural born collector and put him in Fort Myers, he invariably turns to seashells.
Ed became one of the first certified divers in the Fort Myers area, collecting shells locally, in the Florida Keys, and in the Caribbean. Initially, he was selling all the shells wholesale to shell shops in the area. Eventually, he opened his own shop on Sanibel. His interest then widened to include fossils and artifacts of all types in his store, some of which he collected himself – diving or digging. He soon became a well-known, very knowledgeable raconteur, fascinating his customers with stories of how he acquired whatever they were interested in buying – or even if they were just looking. Neptune's Treasures really was like a museum – but a museum where you could actually buy the exhibits. By the time Ed and I started working on his book, he was in an assisted-living apartment in Fort Myers. He talked to me about his early childhood, his time in the military and, of course, his diving adventures to collect shells. I came away with many exciting stories; I actually believe Ed has had nine lives and so will readers when they see the many close calls he escaped. The book includes all the articles Ed wrote years ago for the Sanibel-Captiva Shopper's Guide. Each week, he would write about a different seashell that was local to Sanibel and occasionally he would write an article about one of his adventures. Ed illustrated all the articles himself; these illustrations are also included in the book. While I was working on the book in Colorado during the summer of 2010, the external hard drive that held Ed's story suddenly stopped working. I was sick! It turned out to be a mechanical failure that led to quite an expensive and prolonged recovery process – a very hard lesson to learn about backing up computer files. When the book was published, my wife and I threw Ed a small party in the conference room of his assisted-living facility. He was teary-eyed when I gave him the book and said he wished Jackie was alive to see it. She had always encouraged him to write his life story.
We also gave him a framed photograph of the olive seashell that was named after him — Oliva Hanleyorum. He had never seen the actual shell or even a picture of it. That was a thrill for him. The book, which is 368 pages and sells for $19.95, will be available at MacIntosh Books on Sanibel by January 9. Alternatively, information on ordering by mail can be found at www.thesnowbirdpress.com. Of course, Ed and I hope a lot of people will buy and enjoy his book. Copies are already in England, Australia, Germany and Italy, as well as many areas in the United States. Ed is even selling copies right from his wheelchair. Ever the entrepreneur!
For me, though, it has already accomplished what I'd hoped it would, and that is to give back to Ed a little of what he has given me and so many others – an appreciation of what we have on Earth and the spark to continue the journey.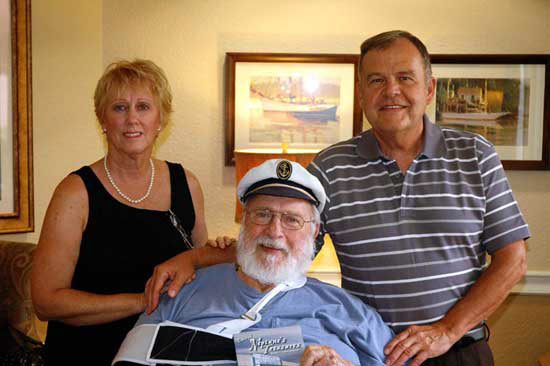 Emilie Alfino contributed to this story.